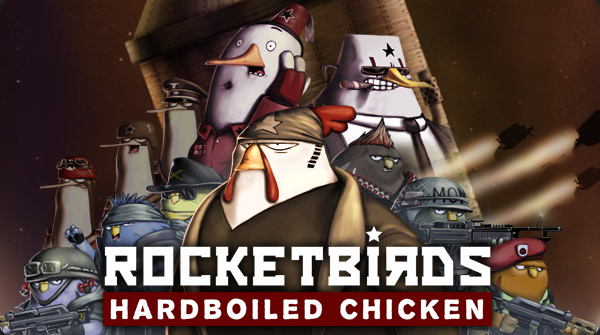 Now Available on Playstation 3
Visit the official homepage at Rocketbirds.com!
After its triple nomination at 2010 Independent Games Festival, the Rocketbirds universe has finally come to PS3. The totalitarian Penguin regime has oppressed Albatropolis for too long, but who can bring it down? Maybe Hardboiled Chicken? Please. Of course Hardboiled Chicken.
Rocketbirds: Hardboiled Chicken takes you on a cinematic platform adventure through Albatropolis as you hunt down the Penguin's corrupt leader, Putzki. Along the way, you'll have to kill many penguins, solve puzzles, incite revolution, and maybe possibly pilot a few jetpacks.
What's New?
No longer bound to the limitations of Flash and the computer keyboard, Rocketbirds: Hardboiled Chicken has been greatly enhanced for Playstation 3. We've added many new features, new game modes, new movies, new screens, new chapters, new weapons, and more. From the gameplay to the visuals, every single aspect has been expanded and improved.
| | |
| --- | --- |
| Jetpacks! | Jet your way through the skies |
| Co-op Campaign | Select a budgie commando and venture forth with a friend through 10 chapters of all-new puzzles and combat |
| Stereoscopic 3D | Fantastic, non-dizzying 3D running at 60fps/720p |
| New Weapons | An expanded menagerie of Penguin-killing implements. |
| New Chapters | 4 all-new chapters of single player adventure |
| New Movies | Even more music video-style custcenes featuring tunes by New World Revolution |
| New Screens | 50% more screens. Over 220 total. |
| Enhanced Visuals | All environments are modeled in full 3d for pan, zoom, and parallax effects |
| Enhanced Controls | Intuitive controls and responsive animations |
| Pumping Soundtrack | New tracks and music from New World Revolution! |