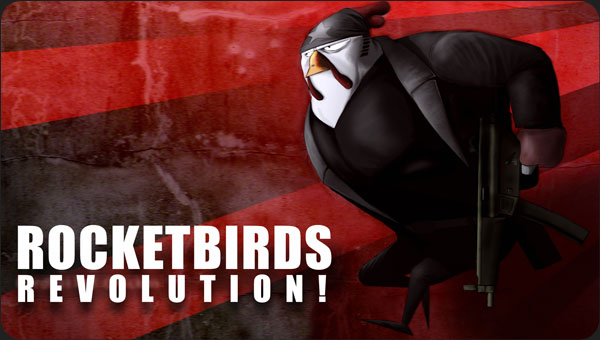 Take control of Hardboiled Chicken, the original Cock of War, and lead the rebellion against Putzki and his army of penguin oppressors to free Albatropolis!
Warring Birds
Rocketbirds: Revolution! is a cinematic 2D action/puzzler set in the Rocketbirds universe, a world filled with angry and often violent birds. Lush graphics, animation, and effects combine with classic gameplay and an intriguing story.
Awards
We are proud to say that Rocketbirds: Revolution! was nominated as a triple finalist (including the Seumas McNally Grand Prize) at the 2010 Independent Games Festival.

Seumas McNally Grand Prize
Excellence In Visual Art
Excellence In Audio
Play It!
Head over to www.rocketbirds.com for more information and a playable demo!