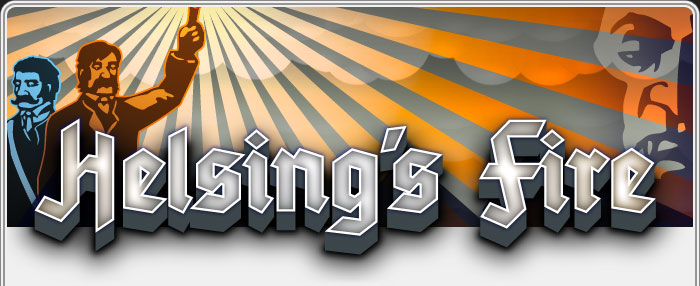 Lead Dr. Helsing and his assistant Raffton on their quest to rid the world of Dracula's evil horde
and cleanse the unholy blight that contains them!

Awards To Validate
Video To Watch
Description To Engulf
Helsing's Fire is an innovative new puzzle game created exclusively for the iPhone, iPod Touch, and iPad. With intuitive touchscreen controls, use your torch and limited supply of powerful tonics to pierce the shadows and destroy Dracula's monsters. Torch placement is critical, and different tonics affect each creature differently. Be careful not to hurt the innocent!
Screenshots To Behold
Features To Ponder
Fresh Mechanics
Completely new gameplay mechanic with natural touch controls. Concepts are introduced gradually and combined to increase the challenge.
Carry-on Gameplay
Quick and rewarding puzzles make it hard to stop playing.
Lots of Levels
3 individual campaigns and a total of 180 levels, with randomly-generated puzzles. Replay the entire game for a new experience every time.
Lots of Monsters
14 monster types with their own individual logic including 5 challenging bosses.
Clear, Colorful Graphics
Light and shadows move dynamically with your touch. Character portraits and enemy sprites are hand-drawn with a distinct style.
Engaging Story
Featuring our fearless heroes on their noble quest to destroy Dracula.
Survival Mode
How long can you hold out against the encroaching horde?
Crystal Integration
Compare your scores, earn achievements, and challenge your friends.
Online Bounties
Compete against other players to solve globally-shared puzzles.
Original Music and Sound Effects
Quotes To Convince
SlideToPlay
... Helsing's Fire is one of those puzzle games that does something completely original and is unbelievably entertaining.
Appolicious/Yahoo! Games
... To simply describe Helsing's Fire ($0.99) by Clickgamer as a puzzle game would be a great injustice. First off, it's a truly unique puzzle game, a rarity on a system in which even the newest of games can almost always be compared to a previous release.
TheAppera
... Helsing's Fire reinvents the puzzle yet again with some light and dark dynamics I guarantee you have NOT seen yet. Prepare to be enthralled!
GamePro
... The game never stops hitting the player with new gameplay mechanics throughout its 90 levels, so it never loses its fun and original appeal, and the boss battles are some of the most unique and challenging I've seen in an iPhone app. This is a game that would absolutely only work on the iOS platform, and it's hands-down one of the best games on the App Store. It gets my highest recommendation.
Cult of Mac
... In truth, I could recommend the game for the congratulatory fist bump performed by Dr. Helsing and Rafton upon the successful completion of a level alone... but the gameplay is truly captivating as well. With over 90 levels and three separate endless modes, Helsing's Fire is an absolute steal of a value. Give it a whirl.
Eurogamer
... With its insidious wit and gothic charm, Helsing's Fire is a joyously original instant classic that iPhone owners should buy immediately.
TUAW
... For 99 cents, Helsing's Fire offers up a good bit of original gameplay that spans 90 different levels. A survival mode and full Crystal integration add some extra fun as well, so the game is well worth the buck.
TouchArcade
... While the screenshots and preview video definitely piqued my interest, Helsing's Fire is even better than I expected. Dark gothic creatures wrapped up in amusing sequences of Victorian dialogue and, not to be forgotten, that excellent light and shadow puzzle mechanic. It's one of the most unique games I've ever played and is a true App Store gem. Surely only a creature of darkness would let this one slip by them.
TouchGen
... This is where the fire of the title comes in and is the main tool in Helsing's box of tricks. It's a unique mechanic for a puzzle game that I have never come across before....
... I love the simple graphic art style, particularly the illustrations of Helsing and the monsters during cut scenes. But what impresses the most is the 2D representation of the light, and how it hits static objects and casts shadows as you drag it around with your finger in realtime. It's a great effect, and intrical to the success of the puzzles. Helsing's Fire is one of those budget games that can so easily get lost amongst all the other $0.99 games on the AppStore, but it's one I implore you not to miss.
PocketGamer
... And as well as the interesting gameplay and stylish graphics, another thing that impresses are the subtle and gentlemanly interactions between Raffton and Van Helsing.
IndieGames
... Helsing's Fire is a new iOS puzzle game created by the Ratloop team, whose enviable portfolio includes the IGF finalists Rocketbirds: Revolution! and Mightier.
GameSetWatch
... If you're in need of a creative puzzler with hand-drawn art and original music for your iPhone/iPod Touch, look to Helsing's Fire, the latest from Ratloop, the indie team behind 2009 and 2010 Independent Games Festival awards finalists Mightier and Rocketbirds : Revolution!
And Finally


Helsing's Fire is published by Chillingo's Clickgamer, the world's premier iPhone game publisher.
Check the Clickgamer game page for more info.